Viotel progresses to commercial production
Posted by Media Release on 31 August 2020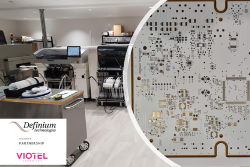 This week Viotel took delivery of the first batch of printed circuit boards for commercial production of our Smart Box IoT devices in partnership with Definium Technologies Pty Ltd.

Since commencing our development partnership with Definium in April 2020, together we have optimised designs and sourced key components to facilitate full scale commercial manufacture of Viotel's suite of 'Internet of Things (IoT)' devices at Definium's factory in Tasmania.

"We are very pleased with the progress achieved under development partnership with Definium. Fulfilling our commitment for realising the potential of 'Internet of Things' technology to empower infrastructure owners to mitigate risks, identify opportunities and make better decisions," said Viotel Chairman Dan O'Toole.

The cost effectiveness and robust nature of Viotel's technology has been well received and strong growth in demand for IoT devices is anticipated, supporting the company's progress to commercial manufacture. Applications for Viotel's Smart Box technology are already being explored in the mining, transport infrastructure, built environment and energy sectors.
For more information contact:
AUSTRALIA
Dan O'Toole
dan.otoole@viotel.co
+61 (0) 407 206 550
NEW ZEALAND
Ralf Muller
ralf.muller@viotel.co
+64 21 250 4494
About Viotel
Our mission is to empower businesses with better data for better decisions. At Viotel we believe knowledge is power, and understand the critical role data plays in managing risks, identifying opportunities and protecting business assets. Using 'plug and play' Smart Box technology, coupled with the power of Amazon Web Services, Viotel has created a data ecosystem. We believe in making smart technology smarter.
By continually investing in new technology and collecting and analysing data in real time, our cutting- edge solutions empower businesses to identify cost savings, increase productivity, streamline maintenance, increase OHS, monitor assets from any location and respond faster to emergencies.
Viotel currently has operations support in Australia and New Zealand.
Author:
Media Release
Connect via:
LinkedIn