Viotel - monitoring Auckland's heritage buildings
Posted by Media Release on 31 August 2020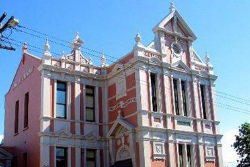 The structural health of the Leys Institute, some of Auckland's important heritage buildings, is being monitored in real-time by Viotel using our SMART IoT technology. The historic building has experienced some structural cracking due to ground movement over its 115-year life.
The twin buildings are home to the Leys Institute Library and Gymnasium. A recently completed seismic assessment has found structural issues that make the buildings unsafe to occupy in the unlikely event of an earthquake.
Consulting engineers GHD were engaged to undertake structural assessment of the building and utilised Viotel's IoT technology to provide continuous real-time monitoring of movements across several the more critical cracks in the structure.
Viotel's real-time monitoring system provides a web interface dashboard that provides crack meter response in terms of absolutes values, trend rate of movement and a heat map type indicator plot of criticality of movement.
Earthquake-prone buildings
In 2017, new earthquake-prone legislation was introduced by the New Zealand government.
Auckland is categorised as a low seismic risk area meaning Auckland Council is only required to identify buildings as potentially earthquake- prone that are unreinforced masonry buildings or built before 1976. The law requires building owners, including Auckland Council, to make identified earthquake-prone buildings compliant within a 35-year time period. For heritage buildings, this stretches to 45 years.
Auckland Council has been undertaking detailed seismic risk assessments of council's portfolio of around 2500 buildings and structures across the region. To date it has completed around 350 assessments and expects to have the remainder completed by 2021.
The Leys Institute was closed to public access in December 2019. Auckland Council will be considering options to restore Leys Institute and make it safe and fit for purpose.
For more information about our SMART structural health monitoring solutions contact:
NEW ZEALAND
HYLTON WHITE
[email protected]
+64 279 277 296
AUSTRALIA
RICHARD LYNCH
[email protected]
+61 (0) 498 800 784
About Viotel
Our mission is to empower businesses with better data for better decisions. At Viotel we believe knowledge is power, and understand the critical role data plays in managing risks, identifying opportunities and protecting business assets. Using 'plug and play' Smart Box technology, coupled with the power of Amazon Web Services, Viotel has created a data ecosystem. We believe in making smart technology smarter.

By continually investing in new technology and collecting and analysing data in real time, our cutting- edge solutions empower businesses to identify cost savings, increase productivity, streamline maintenance, increase OHS, monitor assets from any location and respond faster to emergencies.

Viotel currently has operations support in Australia and New Zealand.
Author:
Media Release
Connect via:
LinkedIn